Cannon vending machines stock brand leading products, Always Towels & Tampax Applicator Super, suitable for any 'emergency' purchase.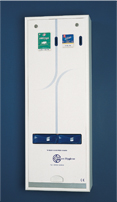 Our service staff regularly stock the machines with both products ensuring supplies are always at hand, or alternatively we offer a customer fill service for high volume traffic locations.
2 Column Vending Machine.
Robust, durable steel casing.
Coin reject option.
Dispenses brand leading products.